The Fields Are Ready for the Harvest
Sabbath Greetings Everyone,
Who are we, those of us whom the Father has called out to be part of the Ekklesia, who have repented of our past sins and committed ourselves to be followers of Christ, striving to obey Him in all things? The Bible tells us who we are!
Deuteronomy 14:2 For thou art an holy people unto the LORD thy God, and the LORD hath chosen thee to be a peculiar people unto himself, above all the nations that are upon the earth.
The apostle Peter quotes Moses from the book of Deuteronomy who said of Israel that they were chosen to be a holy and a "peculiar" [costly, treasured, select, specially chosen] people. Peter applies this status of being a Holy Nation now to the spiritual people of God.
1st Peter 2:9 But ye are a chosen generation, a royal priesthood, an holy nation, a peculiar people; that ye should shew forth the praises of him who hath called you out of darkness into his marvellous light;
When God first calls us, we are called the weak and base things of the world, but then (if we answer His call and yield ourselves to Him and His will) God begins to fashion and mold us into His very own spiritual children, children that seek to have His nature and His mind.
In his letter to the Corinthians, Paul tells us what kind of people God typically calls, he says that God calls the weak, the foolish, the base, the things that are despised, etc. That pretty much sums up the kind of persons all of us we were when God first began to call us out of this present evil world. But those who are faithfully following Him are in the process of being made into Christ's own image. God then empowers these called-out weak, ordinary men and women through the GIFT of His Holy Spirit dwelling within them to become His very sons and daughters.
1st Corinthians 1:26 For ye see your calling, brethren, how that not many wise men after the flesh, not many mighty, not many noble, are called: 1:27 But God hath chosen the foolish things of the world to confound the wise; and God hath chosen the weak things of the world to confound the things which are mighty; 1:28 And base things of the world, and things which are despised, hath God chosen, yea, and things which are not, to bring to nought things that are: 1:29 That no flesh should glory in his presence.
Peter says that those who are called and are faithful and who are obediently fulfilling their calling and are walking in God's light are a ROYAL PRIESTHOOD that shows forth a bright light in this dark world. How do we reconciled these two concepts?
We may be the weak and the despised of the world when we are first called but we are to grow in God's strength and likeness as we live out our calling. It is God's desire, after we are trained and qualified, to give us positions of kings and priests in His Kingdom on earth if we successfully fulfill our calling and have internalized God's divine nature within our own character and have God's laws written within our hearts during our lifetimes.
Romans 4:17 (As it is written, I have made thee a father of many nations) before him whom he believed, even God, who quickeneth the dead, and calleth those things which be not as though they were.
God calls things as if they already are, and that is what Peter is doing in 1st Peter 2:9, for we are to strive with all our being to have a walk worthy of our calling, to be a royal member of God's own family even now in this life. If we do, we will be a vital part of His Royal Priesthood that is to show forth the praises of God who calls us to be lights for Him (and to others) in the world while we are still in this human flesh.
But if we are chosen to be First Fruits of God, we will shine forth God's praises in the Millennium as a "royal priesthood, an holy nation, a peculiar people" being among those who became converted during their physical lifetimes, were over-comers of their sins, remained faithful to the end of their physical lives, and were raised to glorious spirit beings in the resurrection of the just.
The spiritual priests of God will serve to be examples for those placed under their rule and those they are teaching of what they can ultimately be if they, too, choose to forsake the ways of Satan and embrace all of God's ways. 
God is in the process of taking weak men physically made in His image, and empowering them to become His very sons and daughters who will live eternally with Him as members of His spiritual family.
John 1:12 But as many as received him, to them gave he power to become the sons of God, even to them that believe on his name:
1st John 3:1 Behold, what manner of love the Father hath bestowed upon us, that we should be called the sons of God: therefore the world knoweth us not, because it knew him not. 3:2 Beloved, now are we the sons of God, and it doth not yet appear what we shall be: but we know that, when he shall appear, we shall be like him; for we shall see him as he is.
But each person will be given this opportunity in their own order according to God's will for them.
2nd Corinthians 3:14 But their minds were blinded: for until this day remaineth the same vail untaken away in the reading of the old testament; which vail is done away in Christ. 3:15  But even unto this day, when Moses is read, the vail is upon their heart. 3:16 Nevertheless when it shall turn to the Lord, the vail shall be taken away.
God has to call those who He wants to be trained in this present age to be future kings and priests.
John 6:44 No man can come to me, except the Father which hath sent me draw him: and I will raise him up at the last day.
But there is another category of people on earth, those whom the Father has not called yet; these are the vast majority and they make up the world (for the most part) that we have to live in presently.
What was it that Jesus had to say about these people during His ministry here on earth?
Matthew 9:35 And Jesus went about all the cities and villages, teaching in their synagogues, and preaching the gospel of the kingdom, and healing every sickness and every disease among the people 9:36 But when he saw the multitudes, he was moved with compassion on them, because they fainted, and were scattered abroad, as sheep having no shepherd.
Jesus here refers to these multitudes who did not have God in their lives as "the harvest" and that they were like sheep having no shepherd. Jesus had tremendous compassion on them even though they were not the called yet.
Matthew 9:37 Then saith he unto his disciples, The harvest truly is plenteous, but the labourers are few; 9:38 Pray ye therefore the Lord of the harvest, that he will send forth labourers into his harvest.
The Feast of Pentecost
As we keep the Day of Pentecost tomorrow, we reflect on the meaning of this day and how it is about how God is going to pour out His Holy Spirit on all those still living after the tribulation on a future Day of Pentecost. He will begin with Israel and then extend His call to all of mankind; to repent, to be baptized and to enter into the New Spiritual Covenant with Christ. All flesh is going to be grafted into the Spiritual Nation of Israel during the Millennium.
After God delivered the children of Israel out of bondage to Pharaoh, God then entered a marriage covenant at Sinai giving them His Law. This was on the Day of Pentecost and later the laws were written on tables of stone. The Holy Spirit was not made widely available though to these people.
On Wavesheaf Sunday, after Christ had ascended to Heaven to be accepted by the Father, He came back down to earth and He appeared to His disciples. During that appearance He gave them the Holy Spirit (all except for Thomas who was not with the other disciples at that time.)
John 20:21 Then said Jesus to them again, Peace be unto you: as my Father hath sent me, even so send I you. 21:22 And when he had said this, he breathed on them, and saith unto them, Receive ye the Holy Ghost: …..20:24 But Thomas, one of the twelve, called Didymus, was not with them when Jesus came.
Then on the Day of Pentecost in 31 A.D., God's Holy Spirit was given in a mighty display to the rest of the disciples and then subsequently given to all those whom the Father would call out and who would become converted during these past, almost, two thousand years. God calls these people His "little flock". (Luke 12:32)
But on a future Pentecost just after He returns, Christ will begin to establish His kingdom on that day over all the earth. It will be at that time that men's hearts of stone will become hearts of flesh and that the law of God will be written within the hearts and on the minds of all humanity then living. This will begin with all the men and women who have survived the tribulation, first to Israel, and then extended to the rest of mankind living on earth.
All mankind will receive the Gospel message of how to be saved and given the chance to enter the New and Spiritual Covenant with Christ along with receiving the precious gift of the Holy Spirit.
On the Day of Pentecost in 31 A.D. Peter stood up and gave his first sermon and in it he explained to the crowd what the signs meant that they were witnessing. He brought to mind the prophecies contained in the Book of Joel.
Acts 2:14 But Peter, standing up with the eleven, lifted up his voice, and said unto them, Ye men of Judaea, and all ye that dwell at Jerusalem, be this known unto you, and hearken to my words:
2:15 For these are not drunken, as ye suppose, seeing it is but the third hour of the day. 2:16 But this is that which was spoken by the prophet Joel; 2:17 And it shall come to pass in the last days, saith God, I will pour out of my Spirit upon all flesh: and your sons and your daughters shall prophesy, and your young men shall see visions, and your old men shall dream dreams: 2:18 And on my servants and on my handmaidens I will pour out in those days of my Spirit; and they shall prophesy:
The Holy Day that they were keeping, and the fact that God had sent His Holy Spirit in such a dramatic display to Christ's disciples, was a foreshadow of what is going to happen in the seventh day of God's week; this is referring to the time of the end for it mentions events that will happen during the Day of the Lord; but then a time of wonderful "rest" will begin, when all the peoples of the world will receive God's Holy Spirit and will be empowered to live at peace with Him and with each other.
Acts 2:19 And I will shew wonders in heaven above, and signs in the earth beneath; blood, and fire, and vapour of smoke: 2:20 The sun shall be turned into darkness, and the moon into blood, before the great and notable day of the Lord come:
The Day of Pentecost looks forward to the time when Christ returns with His saints and begins the work of setting up His Kingdom here on earth. He is going to rescue the modern day remnant of the children of Israel from their captivity, bring them back to their land, and give to them the Gospel. 
He will give them the chance to repent of their sins and commit to go and sin no more. They will then become the physical citizens of God's Kingdom on earth. And not only the Israelites will be called at that time, but all peoples will be given God's Spirit for the prophecy written in Joel says God will pour out His Spirit on "all flesh".
Acts 2:17 And it shall come to pass in the last days, saith God, I will pour out of my Spirit upon all flesh:
All people on earth will be called by God for the last verse says that the way of salvation will be extended to ALL who call upon God's name.
Acts 2:21 And it shall come to pass, that whosoever shall call on the name of the Lord shall be saved.
In 31 A.D. the pouring out of God's Spirit began upon the few that were called to be a part of the Ekklesia and ever since the numbers have remained small compared to the billions that have lived on earth since that time. Those who received the Holy Spirit on that day witnessed a miraculous display of the Shekinah glory of God, but this was only a partial outpouring (a foreshadowing) of what God is going to do in the soon coming Millennium.
Through the prophets, apostles, God's Word, and through the efforts of the Ekklesia, God has been preparing a small number of First Fruits during the dispensation of the Ekklesia era to be kings and priests in the Millennium.
Turning Man's Heart of Stone into a Heart of Flesh
But in the Millennium God is going to call all who are living (all flesh) and will pour out His Spirit on all people (Israel and Gentiles alike), and they, too, will come to understand God's truth and His Plan of Salvation.
Jeremiah and Ezekiel foretold that these things would happen also. These are good verses to put to memory for this is a continuation of mankind's story that began in the Garden with Adam and Eve. This is the mystery that mankind is unable to figure out except for those God is revealing His plan to. What God is doing and what He is going to do is hidden from mankind even though it is plainly written for all to see; it has been hiding in plain view in the pages of His Holy Bible for thousands of years.
This is like "the rest of the story" after we are told what happened in the Garden of Eden and is exactly what God is doing presently with His called-out and what He is preparing to do in a huge number of people, in fact all flesh, in the coming Millennium.
Jeremiah 31:31 Behold, the days come, saith the Lord, that I will make a new covenant with the house of Israel, and with the house of Judah: 
31:32 Not according to the covenant that I made with their fathers in the day that I took them by the hand to bring them out of the land of Egypt; which my covenant they brake, although I was an husband unto them, saith the Lord:
31:33 But this shall be the covenant that I will make with the house of Israel; After those days, saith the Lord, I will put my law in their inward parts, and write it in their hearts; and will be their God, and they shall be my people. 
31:34 And they shall teach no more every man his neighbour, and every man his brother, saying, Know the Lord: for they shall all know me, from the least of them unto the greatest of them, saith the Lord: for I will forgive their iniquity, and I will remember their sin no more.
Ezekiel 11:17 Therefore say, Thus saith the Lord God; I will even gather you from the people, and assemble you out of the countries where ye have been scattered, and I will give you the land of Israel. 
11:18 And they shall come thither, and they shall take away all the detestable things thereof and all the abominations thereof from thence. 
11:19 And I will give them one heart, and I will put a new spirit within you; and I will take the stony heart out of their flesh, and will give them an heart of flesh: 
1:20 That they may walk in my statutes, and keep mine ordinances, and do them: and they shall be my people, and I will be their God.
Christ is going to do this on a grand scale in the very near future now; He is going to intervene in the affairs of men with stupendous miracles and in great power. But He is calling only a "few" during this age, qualifying them to assist Him with the bringing of the "many" into His family in the ages to come.
Called To Be Co-Laborers With Christ
Those the Father has called to be His children and is working with at this time, are also called to be co-laborers with Christ in the Millennium and after that in the Main Harvest. Paul recognized the purpose of his calling and the others, and compared himself and the brethren to laborers of God working with Him in tending a vineyard and/or building a house.
1st Corinthians 3:9 For we are labourers together with God: ye are God's husbandry, ye are God's building. 3:10 According to the grace of God which is given unto me, as a wise masterbuilder, I have laid the foundation, and another buildeth thereon. But let every man take heed how he buildeth thereupon. 3:11 For other foundation can no man lay than that is laid, which is Jesus Christ.
Paul was given a ministry and he said that he planted and others watered, but it was important that the work he was doing would to continue down through the ages after Paul was gone. God would provide others to come along and to keep watering and to do whatever it takes to keep the Ekklesia alive and continuing down through the ages. The teachings and the doctrines of the Ekklesia must always stay based on the foundation of the apostles, prophets, with Jesus Christ being the chief corner stone.
Ephesians 2:20 And are built upon the foundation of the apostles and prophets, Jesus Christ himself being the chief corner stone;
After Christ was tempted in the wilderness by Satan, we are told that Jesus came into Galilee and began to preach the Gospel.
Mark 1:15 And saying, The time is fulfilled, and the kingdom of God is at hand: repent ye, and believe the gospel. 1:16 Now as he walked by the sea of Galilee, he saw Simon and Andrew his brother casting a net into the sea: for they were fishers. 1:17 And Jesus said unto them, Come ye after me, and I will make you to become fishers of men.
While Jesus was here on earth as a man, He gathered a band of disciples and began to teach them and prepare them to go out and continue His work of preaching and teaching God's Word after His work (on earth) was finished and after He had ascended back up to His Father.
For 3 ½ years Jesus worked chiefly with His 12 apostles, but also with many others called to be disciples and prepared them to do the work toward fulfilling God's great plan for humanity.
After Jesus' crucifixion and resurrection and when He appeared to His disciples again just before His final ascension back up to heaven, He commanded them to go into all the world, beginning from Jerusalem, and to teach ALL nations about the way to salvation and how to keep all of the Father's commandments and the whole truth of God.
Mark 16:15 And he said unto them, Go ye into all the world, and preach the gospel to every creature. 16:16 He that believeth and is baptized shall be saved; but he that believeth not shall be damned.
Jesus promised that He would be with His disciples and that He would help them throughout all ages and right up until He returns.
Matthew 28:20 Teaching them to observe all things whatsoever I have commanded you: and, lo, I am with you always, even unto the end of the world. Amen.
They were to preach the Gospel of Christ's coming Kingdom and how the people could attain to be a part of that kingdom by sincerely repenting and applying the sacrifice of Christ to all of their past sins and then living the way of righteousness. Jesus assured them, and He assures us, that He will be with us right up to the very end of this age.
As each new generation of called-out ones came along and took up the mantle, it became their responsibility to carry on with the work that Jesus started, and then after His crucifixion and ascension, it was given to the apostles, including the apostle Paul.
The ministry (or commission), therefore falls upon the shoulders of each generation of the Ekklesia with all the members striving to align themselves as God's instruments by which to accomplish His goal. And here we are almost at the middle of 2016 and that is still our mandate: to examine to see if we are truly obeying and following Christ as the head of the Body; to repent of all error and disobedience when God reveals it to us; and then apply ourselves to the task that Christ sets before us. That task is to diligently do all that we can to hold fast to the whole Word of God and to teach others to do the same.
But why use mere men to do this task? God has legions of angels that could do this kind of work; and in fact there will be a final angelic proclamation of the Gospel message just before the bowls of God's wrath are poured out (See Revelation 14:6-10).
Why does God desire that we work with Him to get this message out to the world and to teach others His Plan and Purpose?
It is because God seeks to work in us to develop His mind and character! and by helping Him with the most important work in all of Creation, we too, become more like Him.
Hebrews 13:20 Now the God of peace, that brought again from the dead our Lord Jesus, that great shepherd of the sheep, through the blood of the everlasting covenant, 13:21 Make you perfect in every good work to do his will, working in you that which is well pleasing in his sight, through Jesus Christ; to whom be glory for ever and ever. Amen.
Philippians 2:5 Let this mind be in you, which was also in Christ Jesus:
John 3:16 For God so loved the world, that he gave his only begotten Son, that whosoever believeth in him should not perish, but have everlasting life.
And since Jesus seeks to save those who are lost, He wants His co-laborers be seeking those who are lost with a deep desire that all men might be saved just as He wants men to be saved, wanting salvation for as many as possible for those who are willing. In this way God is perfecting His love in us.
1st John 4:10 Herein is love, not that we loved God, but that he loved us, and sent his Son to be the propitiation for our sins. 4:11 Beloved, if God so loved us, we ought also to love one another. 4:12 No man hath seen God at any time. If we love one another, God dwelleth in us, and his love is perfected in us.
In working with Christ, we progressively take on the same objective, the same goal, and the same [agape] love for humanity that He has, for He wants to instill in us His vision that He has for the future for all of humanity and to see them as He sees them. By helping God in His Work, we become more and more like Him and we become spiritually mature as He is spiritually mature in His great love for mankind.
Ephesians 4:13 Till we all come in the unity of the faith, and of the knowledge of the Son of God, unto a perfect man, unto the measure of the stature of the fulness of Christ:
Ephesians 3:18 May be able to comprehend with all saints what is the breadth, and length, and depth, and height; 3:19 And to know the love of Christ, which passeth knowledge, that ye might be filled with all the fulness of God. 3:20 Now unto him that is able to do exceeding abundantly above all that we ask or think, according to the power that worketh in us, 3:21 Unto him be glory in the church by Christ Jesus throughout all ages, world without end. Amen.
He is preparing and perfecting His [collective] bride and wants her to be glorious without any kind of sin. But He also wants her to have the same kind of love and concern He has for the world and wants her to be His helper in the work He is doing that will eventually save all those who are lost, repent of their sins and then come into His kingdom when the veil is taken from their eyes.
Ephesians 5:25 Husbands, love your wives, even as Christ also loved the church, and gave himself for it; 5:26 That he might sanctify and cleanse it with the washing of water by the word, 5:27 That he might present it to himself a glorious church, not having spot, or wrinkle, or any such thing; but that it should be holy and without blemish.
Jesus promises to never leave us nor forsake us, if we stay faithful to Him and that includes those who are faithfully doing His Work of preaching the Gospel message and preparing a people for Him to rule with Him in His kingdom.
As we work at being co-workers with Christ now in this life, we are training and becoming molded to be co-workers with Christ when the work of bringing all of humanity into His family will be vast, it is beyond imagination for us at this time.
Luke 12:42 And the Lord said, Who then is that faithful and wise steward, whom his lord shall make ruler over his household, to give them their portion of meat in due season? 12:43 Blessed is that servant, whom his lord when he cometh shall find so doing. 12:44 Of a truth I say unto you, that he will make him ruler over all that he hath.
As co-laborers, we are to do the Work of God in whatever capacity He has called us to do whether it is small or large. The Father's and the Son's mission is a family business and He wants all of His children busy and involved in helping Them to run it.
Luke 19:13 And he called his ten servants, and delivered them ten pounds, and said unto them, Occupy till I come.
Luke 2:49 And he said unto them, How is it that ye sought me? wist ye not that I must be about my Father's business?
We entered a covenant agreement with God when we entered into a baptismal covenant to seek His Kingdom and His righteousness; not only for ourselves but to help others to come to know the promise of the Kingdom and how they, too, can be a part of it. 
So until Christ returns we must be about out Father's business, we must occupy until He comes, and we must be teaching all nations, baptizing them and teaching those who will listen, to observe whatsoever Jesus has commanded us.
If we do all of these things we will be fellow-laborers with Paul, and all those who have gone before us who did the work of God; but more importantly we will be laborers together with God; and the grace that we received during our calling will not have been in vain. 
This is what Paul had to say about the Thessalonians; will God be able to say this about us some day?
1st Thessalonians 1:2 We give thanks to God always for you all, making mention of you in our prayers; 1:3 Remembering without ceasing your work of faith, and labour of love, and patience of hope in our Lord Jesus Christ, in the sight of God and our Father;
Paul and the other apostles were given a ministry and a task to accomplish, but as the original apostles passed away, God granted other faithful called-out servants to take over the commission throughout all subsequent generations. All who are called to be the children of God and are co-workers with Paul (past and present) have this same mandate.  God's intent is for the Ekklesia to do the work of revealing the plan of God to ALL people, including all nations in these latter days. This is what Paul had to say about what he was called to do and we too are called to have the same mission in our calling.
Ephesians 3:6 That the Gentiles should be fellowheirs, and of the same body, and partakers of his promise in Christ by the gospel: 3:7 Whereof I was made a minister, according to the gift of the grace of God given unto me by the effectual working of his power. 3:8 Unto me, who am less than the least of all saints, is this grace given, that I should preach among the Gentiles the unsearchable riches of Christ; 3:9 And to make all men see what is the fellowship of the mystery, which from the beginning of the world hath been hid in God, who created all things by Jesus Christ:
God has commissioned His Ekklesia to go into all nations to preach and to enlighten all men and make plain to them the plan and purpose of the mystery that was kept hidden throughout the ages from most of mankind until Christ came and established the New Covenant. 
Therefore, by coming to know this mystery, they too, can be saved if they embrace what God offers them by way of repentance and forgiveness and a willingness to go and sin no more. This is saying that it is through the Body of Christ (the Ekklesia made up of weak human beings as per 1st Corinthians 1:26-29) that God wanted this task to be done.
1st Corinthians 3:10 To the intent that now unto the principalities and powers in heavenly places might be known by the church the manifold wisdom of God.
As the Father has sent Jesus into the world with a divine message, so Christ sends His followers.
Matthew 10:16 Behold, I send you forth as sheep in the midst of wolves: be ye therefore wise as serpents, and harmless as doves.
John 20:21 Then said Jesus to them again, Peace be unto you: as my Father hath sent me, even so send I you.
The true hope of the world is for the manifestation of the sons of God, those called to be His First Fruit laborers that are going to refurbish the earth and help Christ to bring many billions of children into His family.
Romans 8:19 For the earnest expectation of the creature waiteth for the manifestation of the sons of God. 8:20 For the creature was made subject to vanity, not willingly, but by reason of him who hath subjected the same in hope, 8:21 Because the creature itself also shall be delivered from the bondage of corruption into the glorious liberty of the children of God.
God the Father and Jesus Christ have been working hard in heaven directing the affairs on earth for thousands of years and nothing is going to thwart their plan, but they have designed in their plan a part for the called out children of God to play in helping Them to harvest the multitudes.
At one point after doing many miracles, Jesus turned to His disciples and ask them to pray for more laborers willing to go out to bring in the harvest.
Matthew 9:37 Then saith he unto his disciples, The harvest truly is plenteous, but the labourers are few; 9:38 Pray ye therefore the Lord of the harvest, that he will send forth labourers into his harvest.
The whole chapter of Matthew 9 is about the kind of work Christ was doing while in the flesh here on earth; within this one chapter all kinds of events happened that kept Christ very busy. 
He healed various kinds of diseases, gave sight to a blind man, cast out demons, He called Matthew to be a disciple, He brought back a little girl from death to life again, and He skillfully dealt with the combative Pharisees. 
After seeing Him do some of these things the multitudes marveled. These are the kinds of things that will be taking place in the Millennium on a grand scale.
Matthew 9:33 And when the devil was cast out, the dumb spake: and the multitudes marvelled, saying, It was never so seen in Israel.
I really believe the people in the Millennium will be saying similar things about the marvels that will be taking place, "It was never so seen in our day in modern day Israel (or anywhere else)!"
In another place Jesus talked about "the harvest" being all white ready to harvest.
John 4:5 Say not ye, There are yet four months, and then cometh harvest? behold, I say unto you, Lift up your eyes, and look on the fields; for they are white already to harvest.
As we look out at the world, we too, can not help but see that the world is desperately in need of God's Kingdom and of God's truth; it needs healing of all its insolvable problems and diseases; and it desperately needs Christ's saving power.
There is so much work that is in need of doing, and yet where are the laborers (the true laborers)? those who are truly converted and who are teaching God's truth? If we are part of the Ekklesia who are the called-out and have been given God's Holy Spirit then we are called to be LABORERS for Him!
In the Millennium there will be much work to do to help the dying and the injured, rescuing people from the four quarters of the earth; and then teaching the people who God truly is and how to obey His laws and statutes. 
They will need to be taught of Christ's sacrifice and of His forgiveness for them, and how they, too, can be saved. Those who come to Christ and are given the Holy Spirit will also be part of the First Fruit harvest, for the seventh day (which represents the Millennium of God) is still part of the same week of the First Fruit harvest.
This is what Pentecost is all about: it is about the First Fruits, all those who will be called, who repent, live out their lives proving their loyalty to God and then changed to Spirit and brought into the Family of God before the Main Fall Harvest of Humanity is raised up. They in turn will help the rest of humanity to be saved and to enter God's Family after the Millennium.
Some of the people we know: our family members, our neighbors, people we work with, all who seem so vehemently opposed to the true God and His commandments at this time may very well live through the tribulation, be humbled to the point of wanting and crying out for God's forgiveness and to receive all that He has for them and then go on to be part of the First Fruits. 
They too will enter the same group, or Early Spring Harvest as those of us who have had God's truth for many, many years and have been striving to live for Him during this present evil world. (See Matthew 20:1-16 for the parable of the laborers and how God rewards both the first and the last who enter into His labors.)
God's Family
Last week we studied about how we all came from Adam and Eve and how all genealogies begin with Adam and Eve as our first parents. We saw that all humans are in reality a part of one family even though there are many races and nationalities.
Those of us who are called now must see all people of the world as potential spiritual children of God for that is what they are. All the people of the earth were created by God and in that way all are His children in the physical sense. God is not willing that any should perish and is doing all that He can to save as many as He can even though it may appear that Satan has been winning these past six thousand years.
Every person that has ever given life is going to be given the chance to finally reject the Tree of the Knowledge of Good and Evil and choose God's rule over their lives for evermore. The time spent living under Satan's rule and reaping the consequences of sin is going to be used by God as teachable moments for His children to reflect back upon, and then set in their minds to never, ever want to live that way ever again.
What Satan has meant for evil will turn out for good for most of mankind when all is said and done. As most of us know, God's Feasts reveal to us God's wonderful Plan and provide us with great hope realizing that most of humanity is not doomed forever; and that God is going to take over the reins of ruler-ship from Satan once and for all. The Tree of Life will be made accessible very soon now, and God is going to wipe away man's tears once mankind has learn their lesson.
Why is it so important to know the whole story behind man, starting with Adam and Eve, and how they rebelled against God which brought into the world the evils of living under Satan's dominion that have effected us all?
It helps us to understand about the world (and God's plan for humanity) if we realize that all peoples on earth are, in truth, all members of one huge family that dates back to Adam and Eve and we are all brothers and sisters. 
And as the descendants of the very first parents we all have been affected by the choices that Adam and Eve made in the Garden of Eden and that all the families on earth even to this day have reaped the consequences.
The very first murder was committed by Adam and Eve's son Cain. What caused him to kill his own brother? When we read the narrative we can see that it was pride, envy, and hatred which entered the world when Adam and Eve chose to follow Satan's rule rather than look to God as Sovereign in their lives. 
The consequence was that this evil spirit effected Cain and he slew his brother over something that could have been so easily resolved.
Genesis 4:4 And Abel, he also brought of the firstlings of his flock and of the fat thereof. And the Lord had respect unto Abel and to his offering: 4:5 But unto Cain and to his offering he had not respect. And Cain was very wroth, and his countenance fell.
When God asked Cain "where is your brother Able", Cain had a very telling answer for God.
Genesis 4:9 And the Lord said unto Cain, Where is Abel thy brother? And he said, I know not: Am I my brother's keeper? 4:10 And he said, What hast thou done? the voice of thy brother's blood crieth unto me from the ground.
The New Testament gives even more insight as to why Cain slew Abel and that it was because his own works were evil, whereas Abel's works were righteous. Cain was under the power of the wicked one and refused to repent when God confronted him of his anger. Cain's uncontrolled anger and envy caused him to murder his brother.
1st John 3:11 For this is the message that ye heard from the beginning, that we should love one another.  3:12 Not as Cain, who was of that wicked one, and slew his brother. And wherefore slew he him? Because his own works were evil, and his brother's righteous.
John continues this thought warning us that, we too, will be hated by the world which is under the sway of the wicked one just as Cain was. All those who live righteously will be hated for what they believe and for how they live.
1st John 3:13 Marvel not, my brethren, if the world hate you.
1st John 5:19 And we know that we are of God, and the whole world lieth in wickedness.
But Jesus tells us that we must bless those who hate us; but how do we bless them? By praying for them and witnessing to them of God and of His ways that lead to life (and not death) and the way of salvation with eternal blessings and happiness.
Matthew 5:44 But I say unto you, Love your enemies, bless them that curse you, do good to them that hate you, and pray for them which despitefully use you, and persecute you; 5:45 That ye may be the children of your Father which is in heaven: for he maketh his sun to rise on the evil and on the good, and sendeth rain on the just and on the unjust.
God calls those who walk according to the ways of Satan "sons of disobedience", "children of wrath" and having Satan as their father.
Ephesians 2:1 And you hath he quickened, who were dead in trespasses and sins; 2:2 Wherein in time past ye walked according to the course of this world, according to the prince of the power of the air, the spirit that now worketh in the children of disobedience: 2:3 Among whom also we all had our conversation in times past in the lusts of our flesh, fulfilling the desires of the flesh and of the mind; and were by nature the children of wrath, even as others.
John 8:44 Ye are of your father the devil, and the lusts of your father ye will do. He was a murderer from the beginning, and abode not in the truth, because there is no truth in him. When he speaketh a lie, he speaketh of his own: for he is a liar, and the father of it.
Scripture tells us whom it is that we really are at war with. It is not really people, but the wicked spirits that work through them and in them, namely Satan and his workers.
Ephesians 6:11 Put on the whole armour of God, that ye may be able to stand against the wiles of the devil. 6:12 For we wrestle not against flesh and blood, but against principalities, against powers, against the rulers of the darkness of this world, against spiritual wickedness in high places.
The people of this world just do not know any better. The saying "except for the grace of God there go I" applies to all, for all of us have been deceived at one time and to one degree or another.
God's children must never look down on others, whether they be Catholics, Protestants, Muslims, atheists, whites, blacks, yellow, other nationalities, etc.
Why is there so much hatred in the world? It is because of fear. Satan tries to divide and to get the people to focus on their differences rather than what we have in common and that we all share the same origin.
We must have proper fear and reverence for God, but not to fear others just because they are different, but rather love one another with the proper love of God which is keeping His commandments, and then caring for one another to the degree that we can.
1st John 4:18 There is no fear in love; but perfect love casteth out fear: because fearhath torment. He that feareth is not made perfect in love.
Setting the Captives Free
It may be necessary to separate ourselves from those who are sinning and refuse to repent, and from those who are dangerous, but we must realize that during this six thousand years of man, Satan has taken mankind captive and they are in need of being delivered from their captor. 
2nd Timothy 2:25 In meekness instructing those that oppose themselves; if God peradventure will give them repentance to the acknowledging of the truth; 2:26 And that they may recover themselves out of the snare of the devil, who are taken captive by him at his will.
From the time of Adam and Eve, the people of the world have been taken captive and are in need of rescuing. Jesus at the beginning of His ministry on earth said that His mission was to set the captives free by preaching the Gospel to the poor and healing the brokenhearted. This includes all men and women, not just the ones that are being called out at this time.
Luke 4:16 And he came to Nazareth, where he had been brought up: and, as his custom was, he went into the synagogue on the sabbath day, and stood up for to read. 4:17 And there was delivered unto him the book of the prophet Esaias. And when he had opened the book, he found the place where it was written, 4:18 The Spirit of the Lord is upon me, because he hath anointed me to preach the gospel to the poor; he hath sent me to heal the brokenhearted, to preach deliverance to the captives, and recovering of sight to the blind, to set at liberty them that are bruised, 4:19 To preach the acceptable year of the Lord.
Jesus quoted from Isaiah 61 which is about how God is going to deliver humanity from the curse and the sorrow that it brings, and turn our "ashes into beauty". 
He is speaking of the Millennium and how restoration and righteousness is going to take over the destruction and the waste places that were caused by man's rebellion and sin upon the earth.
This is what must have been on Jesus' mind that day as He spoke in the synagogue and quoted from this beautiful passage. This too is part of the "rest of the story" of mankind's true destiny for all those who turn from their rebellion toward God and repent of all their wicked ways.
Isaiah 61:3 To appoint unto them that mourn in Zion, to give unto them beauty for ashes, the oil of joy for mourning, the garment of praise for the spirit of heaviness; that they might be called trees of righteousness, the planting of the Lord, that he might be glorified. 
61:4 And they shall build the old wastes, they shall raise up the former desolations, and they shall repair the waste cities, the desolations of many generations. 
61:5 And strangers shall stand and feed your flocks, and the sons of the alien shall be your plowmen and your vinedressers. 
61:6 But ye shall be named the Priests of the Lord: men shall call you the Ministers of our God: ye shall eat the riches of the Gentiles, and in their glory shall ye boast yourselves. 
61:7 For your shame ye shall have double; and for confusion they shall rejoice in their portion: therefore in their land they shall possess the double: everlasting joy shall be unto them. 
61:8 For I the Lord love judgment, I hate robbery for burnt offering; and I will direct their work in truth, and I will make an everlasting covenant with them.
 61:9 And their seed shall be known among the Gentiles, and their offspring among the people: all that see them shall acknowledge them, that they are the seed which the Lord hath blessed. 
61:10 I will greatly rejoice in the Lord, my soul shall be joyful in my God; for he hath clothed me with the garments of salvation, he hath covered me with the robe of righteousness, as a bridegroom decketh himself with ornaments, and as a bride adorneth herself with her jewels. 
61:11 For as the earth bringeth forth her bud, and as the garden causeth the things that are sown in it to spring forth; so the Lord God will cause righteousness and praise to spring forth before all the nations.
If the Father has called us to be co-laborers with Him, then we are to be entering into Jesus labors and do the same kind of work that Christ did in seeking to rescue the captives who are our brothers and sisters, praying for them and giving them God's Word; that is the only way to set them free from Satan's deception and lies.
Proverbs 24:11 If thou forbear to deliver them that are drawn unto death, and those that are ready to be slain; 24:12 If thou sayest, Behold, we knew it not; doth not he that pondereth the heart consider it? and he that keepeth thy soul, doth not he know it? and shall not he render to every man according to his works?
This means God's people, His co-laborers must do what they can to rescue those who are being taken away to death, and those who stagger to the slaughter; they are to speak up, warn, and teach about God to them in an attempt to turn them back from their doom; for the soul that sinneth it shall die!
If we refuse by claiming ignorance and saying, "See, we did not know this," God knows and He weighs and examines the hearts and our motives and He will reward us according to our works. To whom much is given, much is required.
Most of those in the world are not going to listen to us or heed what we say, we know that, but we are to do God's Work of warning and preaching regardless, and then let God take care of the rest after we have done our part just as God tells His watchman Ezekiel.
Ezekiel 3:4 And he said unto me, Son of man, go, get thee unto the house of Israel, and speak with my words unto them. 
3:5 For thou art not sent to a people of a strange speech and of an hard language, but to the house of Israel; 
3:6 Not to many people of a strange speech and of an hard language, whose words thou canst not understand. Surely, had I sent thee to them, they would have hearkened unto thee. 
3:7  But the house of Israel will not hearken unto thee; for they will not hearken unto me: for all the house of Israel are impudent and hardhearted. 
3:8 Behold, I have made thy face strong against their faces, and thy forehead strong against their foreheads. 
3:9 As an adamant harder than flint have I made thy forehead: fear them not, neither be dismayed at their looks, though they be a rebellious house. 
3:10 Moreover he said unto me, Son of man, all my words that I shall speak unto thee receive in thine heart, and hear with thine ears. 
3:11 And go, get thee to them of the captivity, unto the children of thy people, and speak unto them, and tell them, Thus saith the Lord God; whether they will hear, or whether they will forbear.
In this dispensation it is the job of the Ekklesia to be God's watchman to the rest of the world; to be His mouthpiece to speak the words of warning and truth to the people in chance that they may heed, repent, and be saved.
If they will not listen at this present time, it may be that the words they heard will come to mind at a latter time and then they will heed knowing that God did try to warn them through His servants and out of His great love for them before He sent correction.
Ezekiel 3:17 Son of man, I have made thee a watchman unto the house of Israel: therefore hear the word at my mouth, and give them warning from me. 
3:18 When I say unto the wicked, Thou shalt surely die; and thou givest him not warning, nor speakest to warn the wicked from his wicked way, to save his life; the same wicked man shall die in his iniquity; but his blood will I require at thine hand. 
3:19 Yet if thou warn the wicked, and he turn not from his wickedness, nor from his wicked way, he shall die in his iniquity; but thou hast delivered thy soul. 
3:20 Again, When a righteous man doth turn from his righteousness, and commit iniquity, and I lay a stumbling-block before him, he shall die: because thou hast not given him warning, he shall die in his sin, and his righteousness which he hath done shall not be remembered; but his blood will I require at thine hand. 
3:21 Nevertheless if thou warn the righteous man, that the righteous sin not, and he doth not sin, he shall surely live, because he is warned; also thou hast delivered thy soul.
God's Divine Objective
God has called us to work as co-laborers with Him toward fulfilling His divine objective; and what is that objective and how is He achieving that objective? We know from Matthew 28:19-20 that His disciples are commanded to go into all the world with the Gospel message, this is our job description as co-laborers with Christ.
Matthew 28:19 Go ye therefore, and teach all nations, baptizing them in the name of the Father, and of the Son, and of the Holy Ghost: 28:20 Teaching them to observe all things whatsoever I have commanded you: and, lo, I am with you always, even unto the end of the world. Amen.
God lays out His ultimate objective in many verses.
1st Timothy 2:3 For this is good and acceptable in the sight of God our Saviour; 2:4 Who will have all men to be saved, and to come unto the knowledge of the truth.
2nd Peter 3:9 The Lord is not slack concerning his promise, as some men count slackness; but is longsuffering to us-ward, not willing that any should perish, but that all should come to repentance.
Daniel 9:24 …. to finish the transgression, and to make an end of sins, and to make reconciliation for iniquity, and to bring in everlasting righteousness, and to seal up the vision and prophecy, and to anoint the most Holy.
Revelation 21:1 And I saw a new heaven and a new earth: for the first heaven and the first earth were passed away; and there was no more sea. 21:2 And I John saw the holy city, new Jerusalem, coming down from God out of heaven, prepared as a bride adorned for her husband. 21:3 And I heard a great voice out of heaven saying, Behold, the tabernacle of God is with men, and he will dwell with them, and they shall be his people, and God himself shall be with them, and be their God.
From these Scriptures we see that God's objective and goal for humanity is for every man and woman (who will) to come to a rightful knowledge of God's truth and to be recipients of His grace. God's desire for all of humanity is to usher in everlasting righteousness throughout the whole earth; that sin will be no more forever; and that all mankind will desire to be become His spiritual children and that they may live with Him forever.
From these verses, we see the objective, but how is God going to accomplish such a seemingly impossible task? As we look at today's world, with all the evil, the violence, the pollution and destruction upon the earth, how can God possibly bring righteousness and restoration to the whole world? 
We know, of course, that only Christ can achieve this miracle on earth and only He has the POWER to do it.
Matthew 19:26 But Jesus beheld them, and said unto them, With men this is impossible; but with God all things are possible.
Witnessing God's Plan for Humanity
There are many spriitual blessings that are bestowed upon those that are Christ's and are called by God the Father. Do we then behave as the elites in this present world and get puffed up with pride and a swelled head because we have been called now and we are considered to be His children, while the others who are in the world are not? Do we think of ourselves as better or perhaps special because of the fact that we are called now and have all this wonderful knowledge?
To a certain respect His called out children are special, but we are to be grateful for our calling and then humbly walk in love (God's kind of love) to all that are in the Ekklesia and also to all that are in the world.
Malachi 3:16 Then they that feared the Lord spake often one to another: and the Lord hearkened, and heard it, and a book of remembrance was written before him for them that feared the Lord, and that thought upon his name. 3:17 And they shall be mine, saith the Lord of hosts, in that day when I make up my jewels; and I will spare them, as a man spareth his own son that serveth him.
With every blessing, (such as our calling at this present time) there is a responsibility and God has called a few now to help teach and to train the rest of humanity when it is their turn in the Millennium and also during the Main Fall Harvest of Humanity.
Some day all that come to Christ will also be special in His sight just as God says of those who are His special treasure at this time. Because God has given us so much, we are to use what He has given to give to others when we have the opportunity to do so.
Needed – Qualified and Consecrated Laborers for God's Harvest
So just what does the Ekklesia have need of today in these end time days that we are living in before the Millennium begins?
We have been given so much in the way of technology, the ability of the press to publish books and articles, the power to broadcast through radio, TV, and now the Internet, in which to proclaim and preach the Gospel more than at any other time in history.
God has and can use these things to further His work and He has blessed the Ekklesia with material things and modern day technology, especially in this last century to help facilitate the work of teaching and preaching of the Gospel.
But is that really, really, what is needed in the Ekklesia today, right now? All these things are a complete waste of time and effort if the Ekklesia is lacking zealous strong "men and women of God"; the kind of people that are on fire for doing the will and all the commandments of God and who put Him first before anything and anyone else.
The first century Ekklesia had none of the things that we modern's have to do the work of God and yet they were the most dynamic generation of all time. When we read the Book of Acts and then look at history since that time, there is no other era that can compare with the feats that the people of God were able to do with the power of God's Holy Spirit and God backing them in the first century.
God opened doors mightily for His servants and then helped and guided them to walk through those doors to make a difference in the world. The unbelievers of their day said of the people of God: ….. "These that have turned the world upside down are come hither also" (Acts 17:6).
They had none of the modern day conveniences that we have and yet look at what was being said of them and what they accomplished! 
We have bigger and better machines and powerful technology that the ancients could not even begin to imagine, but the world is not better off with all of these innovations; in fact it is getting worse and worse.
It seems that the same effect has taken place in the Ekklesia as well, for there is no powerful work being done in the Ekklesia and the conditions are not improving as far as worldliness among the members.
With all of the conveniences and technology the Ekklesia has at its disposal, it is going backward, not forward. The Ekklesia has been and still is drifting from wholehearted obedience to the laws and ordinances of God and refuses to examine old teachings that do not make sense nor are in alignment with God's Word. It is becoming more and more attached to the worldly and for the most part it refuses to grow in grace and knowledge and new understanding. 
In these Laodicean times, most of those who say that they are the true Christians prefer to look to their leaders and the corporate organizations to lead and guide them, rather than trust and follow the prompts and guidance of the Holy Spirit.
Most of the members of the modern day COG organizations want the friendship and approval of others by having corporate unity rather than individually seeking after unity with God. 
Having unity with God often means that individuals must be willing to be alone and separated in order to live in obedience to God in all things rather than running with the pack.
It is quite apparent to most of us that the Ekklesia is racked with error, and for the most part has been rendered inefficient and even incapable of doing the job it has been commissioned to do. But God promises that the Ekklesia will never be completely destroyed and that there will always be those who do repent and will go on to do the work of God. And these people are the true co-laborers with God.
Matthew 16:18 And I say also unto thee, That thou art Peter, and upon this rock I will build my church; and the gates of hell shall not prevail against it.
Revelation 3:19 As many as I love, I rebuke and chasten: be zealous therefore, and repent. 3:20 Behold, I stand at the door, and knock: if any man hear my voice, and open the door, I will come in to him, and will sup with him, and he with me.
Christ tells John in His message to the Laodiceans that He is going to knock at each lukewarm believer's door and Christ wants each one to repent of the errors and Laodician attitude and allow Him to come in and to make Him first in their lives. 
Christ is currently knocking on the doors (of our minds) to be allowed to come into our lives in true righteousness and zeal for Him and His laws; to passionately pursue all of His ways and to be zealous to do the Work that He has laid out for us.
God's Work needs men and women who are filled with God's Spirit, who are on fire for the things of God and not for the things and people of this world.
Most "help wanted ads" start by saying that they are looking for talented people with natural ability and have educational achievements; those with initiative and who are self-starters, etc., etc. 
These are the kinds of qualities that the world looks at as being the most likely to bring success to one's life and subsequently to the organization. The world's corporations think that if they can hire enough men and women with these kinds of qualifications that they collectively will make for a more efficient and successful organization with a workforce that can get things done. Even in the COG"s it seems that these qualities are what the leaders look for as top priority along with loyalty to what the organization teaches.
But what qualifications is God looking for? When we study the Scriptures we can see that God wants men and women on His team who are instilled with His righteousness and holiness, who are active prayer warriors, those who have consecrated themselves from the evils of this world, those with humbleness of mind and godly character and who are loyal to Him and His laws above all else. 
God is looking for leaders who desire to give completely of themselves in living for His glory and who have an ever-present and insatiable yearning and seeking after all the fullness of God and knowledge of Him.
What the Ekklesia needs most is men and women of great faith who are passionate for God and willing to set the proper example for all the others in the assemblies and also for those who are in the world, not in a flashy ostentatious way, but by their character and works that bring glory to God and teach others to see that God is truly the Eternal, that He is our authority rather than the leaders and organizations that claim to be our authority. 
We think of the men and women of the past who did have these spiritual qualities like Noah, Abraham, Moses, Joshua, Rahab, Ruth and Boaz, David, Daniel, Esther, Deborah, all the prophets, and then Paul and all of the other apostles and, of course, Jesus Himself when He was a man here on earth. Can the Ekklesia again have such men and women in our day that could turn the world upside down?
The Bible says, yes, there is going to be a certain people of God who will become strong in the end times and "do exploits" for Him. 
"Exploit" means: "An act or deed, especially a brilliant or heroic  one". And they will do exploits because they know their God, the true Almighty God and Creator of all things.
Daniel 11:32 And such as do wickedly against the covenant shall he corrupt by flatteries: but the people that do know their God shall be strong, and do exploits.
Throughout history, the men and women whom God has been able to use to rout the forces of darkness, who did mighty works for God and made lasting impressions down through the ages have always been few in number. Out of billions of people who have ever been born, only a few select called out ones have ever made any kind of a lasting impact upon the people of this world since the time of our first parents Adam and Eve.
Matthew 5:45 That ye may be the children of your Father which is in heaven: for he maketh his sun to rise on the evil and on the good, and sendeth rain on the just and on the unjust.
The blessings of God's provision for all mankind and the ability to enjoy His creation are received by the many, but those that are willing to repent of their sins and then do the work of God has always been a small group; a little flock.
Out of Gideon's army of 32,000 men, God reduced that number to only 300 after having them go through a process of elimination. He sent just a small army along with Gideon to go to war against the Midianites and the Amalekites and they defeated them with lights, pitchers and trumpets.
What kind of laborers are needed to fight in today's battles against sin and complacency in the world and also in the Ekklesia?
It seems that few are willing to pay the price of being part of God's small flock and being on fire for all His commandments and living according to every Word of God. Most would rather just accept the things that they have been taught and refuse to study on their own to really prove the things that have been handed down to them.
This is very dangerous for those who think of themselves as the "doers of the Word" but who are no better than others who just accept what they are told: believing without knowing WHY they believe as they do, and without knowing how what they believe is based securely on the Word of God.
I believe that the eyes of the Lord are running to and fro throughout our land, and even amongst those who are part of the Ekklesia today, looking for such men and women; strong spiritual warriors for God who are of such spiritual caliber that He can use them to glorify His great Name in a world that  mocks and blasphemes everything that has anything to do with God and His holiness. 
2nd Chronicles 16:9 For the eyes of the Lord run to and fro throughout the whole earth, to shew himself strong in the behalf of them whose heart is perfect toward him….
All those who are watching world events can see what is happening in the world, that God and His holy Name are being mocked and reproached wherever we look.
And even among the Ekklesia there are those (and even whole groups) that bring blasphemy to the name of God and His way of life because of exalting mere men over God and making men their sovereignty rather than looking to God. 
Because of the breaking of God's laws and for tolerating evil leaders to lead us, the modern day COG's are bringing reproach to God's name. 
In Romans 2 through the apostle Paul, God is speaking directly to His people. This applies to our modern era just as much as it did in the days of the early Ekklesia.
Romans 2:23 Thou that makest thy boast of the law, through breaking the law dishonourest thou God? 2:24 For the name of God is blasphemed among the Gentiles through you, as it is written. 
When the Name of the LORD was being reproached in ancient Israel, God sent a message to His people telling them that the heathen (unbelievers) will come to know that GOD IS THE LORD when the Israelites begin to show forth the sanctification (holiness) of the Lord in the heathen's sight.
In Ezekiel 36 God is prophesying that the people of the lands around the nation of Israel will come to know that the Great Creator God is the true Eternal God, if and when He is sanctified in the lives of His people or when they live in such a way that they bring honor and glory unto Him. 
This also pertains to His people in the latter days, being all those who have come under the New Covenant and who call themselves followers of Christ.
Ezekiel 36:23 And I will sanctify my great name, which was profaned among the heathen, which ye have profaned in the midst of them; and the heathen shall know that I am the Lord, saith the Lord God, when I shall be sanctified in you before their eyes.
God is looking today for faithful men and women who will allow Him to be so sanctified in them that the people around them will recognize that it is God's work in them and it will make a definite impression upon them. To be sanctified is to be set apart, to be holy as God is holy.
Through the prophet Isaiah, God addresses this mandate when He says that only when there is no longer any "strange god" (idols and false gods) among His people, then they will be able to be powerful witnesses for Him.
Isaiah 43:12 I have declared, and have saved, and I have shewed, when there was no strange god among you: therefore ye are my witnesses, saith the Lord, that I am God.
It is imperative that we come out from those who are misleading us and leading us astray with their false teachings and their exalting of men and their organizations (their idols). Those called to be God's people are to obey and worship no other god other than the true God.
Isaiah 45:5 I am the Lord, and there is none else, there is no God beside me: I girded thee, though thou hast not known me:
Isaiah 44:6 Thus saith the Lord the King of Israel, and his redeemer the Lord of hosts; I am the first, and I am the last; and beside me there is no God.
2nd Corinthians 6:17 Wherefore come out from among them, and be ye separate, saith the Lord, and touch not the unclean thing; and I will receive you.
How do we come to know our God and stoke a passion in our hearts desiring to serve and obey only Him? By consecrating ourselves from the world and abiding in Him on a daily basis!
John 15:4 Abide in me, and I in you. As the branch cannot bear fruit of itself, except it abide in the vine; no more can ye, except ye abide in me. 15:5 I am the vine, ye are the branches: He that abideth in me, and I in him, the same bringeth forth much fruit: for without me ye can do nothing. 15:6 If a man abide not in me, he is cast forth as a branch, and is withered; and men gather them, and cast them into the fire, and they are burned. 15:7 If ye abide in me, and my words abide in you, ye shall ask what ye will, and it shall be done unto you.
One reason for the general lack of holiness in our day is the fact that we do not spend enough time alone with God and because other things become more important to us. No man or woman can truly become holy unless they determine that the most important thing in his or her life is to spend consecrated, quality time in the presence of their Lord.
This should be our highest priority in this life; for being in God's presence, communicating with Him, studying His Word and meditating upon it is the source of our power and our holiness and empowers us to set Him above all else.
When we become so familiar with God and His ways, it is then that we will be able to discern the false teachers and false leaders and will want to run from them, rather than throw our hats in with them and let them lead us and tell us what we must do and believe.
If we are constantly drawing close to God, He will draw closer to us.  When Moses' face shone, it was only after he had spent forty days alone on the mount with God. Moses was a holy man of God because he knew his God face to face and spent much time with Him alone.
So, too, with Elijah and Elisha. Both of these men of God did mighty exploits for God. How could they do so? It becomes evident by what they said about themselves and by their fruits that backed up what they said.
In their their messages to others, they began their message by saying that they were men who stood before God. To do any mighty works (exploits), we must be face to face with God, having a relationship so close to Him that we can confidently say such a thing, just as Elijah and Elisha did.
1st Kings 17:1 And Elijah the Tishbite , who was of the inhabitants of Gilead, said unto Ahab, As the Lord God of Israel liveth, before whom I stand… 
1st Kings 18:15 And Elijah said, As the LORD of hosts liveth, before whom I stand, I will surely shew myself unto him to day.
2nd Kings 3:14 And Elisha said, As the Lord of hosts liveth, before whom I stand…
2nd Kings 5:16 But he said, As the Lord liveth, before whom I stand…
Both of these great men of God knew the importance of meeting with God often face to face, and it was by God's power and His Holy Spirit that helped them to want to live holy lives and also enabled them to do the feats that God required of them. If we are to witness for God then we too must be living holy lives.
In our day, there is so much activity with going and coming and hustle and bustle at such a tremendous pace that we can very easily get caught up in the busyness of the all events and clamor of the world. We then end up with having no time to spend alone with God and studying His Word and proving all things from Scripture. All of this activity and wanting to be around people and the desire to be with them constantly can sap us of our spiritual vitality. The things of God and His reality begins to drift away and before we know it we are far from God.
The ruler of this present world puts such a premium on work, busyness, events, communicating all the time with other people, attending meetings, shopping, sports events, movies, parties, etc., that sometimes the desire to meet with our Holy God to talk to Him and think upon Him is sadly neglected.
In the Gospels we read of the example of Jesus who often got away from people to be alone with His Father. The Gospels record numerous times that He would get up early in the morning, or that He retreated to a mountain or the wilderness to be away from others (even His disciples) to meet with His Father.
Once at the end of a busy day of preaching and ministering to the physical needs of thousands, He went off by Himself up on a mountain to have a quiet time with His Father (Matthew 14:23). On another occasion after He had worked late into the previous night healing the sick, He still arose early and went into a solitary place to pray (Mark 1:35). 
Jesus exemplifies for His called out ones that solitary time with our Father should be very important to us even though we have busy lives. 
The Son of God was very busy in His lifetime, too, with traveling, full-time ministry and full-time teaching of His disciples; but He made prayer and solitary time with His Father top priority.
Even Jesus needed to be in the presence of His Holy Father often and so does each of those the Father has called. In our fight against the forces of darkness and to become co-laborers of God we will need all the empowerment from God that we can get and we can only get it from staying close to God and with prayer and through the power of His Holy Spirit.  
Jesus taught His disciples by His example the importance of prayer, of staying close to God and He told them that they should ask God for His Holy Spirit on a regular basis.
Luke 11:13 If ye then, being evil, know how to give good gifts unto your children: how much more shall your heavenly Father give the Holy Spirit to them that ask him?
Just as Jesus, the prophets, and the apostles and the other men and women of God, our mission in life is to confront evil first in ourselves and to work at overcoming and rooting sin out of our lives.
But God also wants us to take a stand for His righteousness and to faithfully and fearlessly rebuke sin and false doctrine whenever we can. There is a place for courtesy and tact, no doubt, but there are also times when true believers must take a stand and speak out against the evils we see in our families, our society, our nation, in the world; and even in the Ekklesia where sin and false doctrines have become entrenched.
Why is it that there are so few believers that are willing to speak out against the sin and worldliness and compromise that is so widespread in our day? 
There seems to be so many in the COG's that are willing to just tolerate compromise and the false traditions of men. They see it but few are willing to do anything about it.
The reason is that we are closer to people and the realities of this world than we are to our Father. We have made them our "gods". We come to the point where we seek the approval of men rather than the approval of God because they are more real to us than God is. 
Such a human desire to have the esteem and praise of men stems invariably from the fact that we spend too little time in the presence of God learning to fear Him, rather than fearing man and what they will do or think of us.
If we are to be the servants of God that He is looking for, it essential that we speak out against all compromise that lowers the standards that God has laid down in His Word. We need to take a stand and come out from those who promote compromising of the Word of God; to set ourselves apart and let it be known that we are among those who refuse to go along just to get along.
To be set apart to do God's Work and to be His servants, we must separate ourselves from the ungodly and refuse to be partakers with them in their rebellion against God. This is not showing a lack of love for them but rather shows that we love God above all else; and when we show people their sin and complacency we are showing them the love of God as well.
2nd Corinthians 6:16 And what agreement hath the temple of God with idols? for ye are the temple of the living God; as God hath said, I will dwell in them, and walk in them; and I will be their God, and they shall be my people.   6:17 Wherefore  come out from among them, and be ye separate, saith the Lord, and touch not the unclean thing; and I will receive you. 6:18 And will be a Father unto you, and ye shall be my sons and daughters, saith the Lord Almighty.
Being examples for others and being leaders is what the Ekklesia is desperately in need of. By becoming the leaders that God is looking for now, we are being fashioned and made fit to be godly leaders in God's kingdom. We must hate what God hates and we must stand against all that God Himself is against. Speaking out and warning against all that comes short of God's highest purpose for His Ekklesia, may perhaps reduce our numbers but God is more interested in quality than in quantity at this time.
Matthew 7:13 Enter ye in at the strait gate: for wide is the gate, and broad is the way, that leadeth to destruction, and many there be which go in thereat:  7:14 Because strait is the gate, and narrow is the way, which leadeth unto life, and few there be that find it.
God desires that we constantly contend for the truth and to help our brothers and sisters when they are drifting from the truth as well. 
We are not to compromise with the truth in order to bring large numbers of men and women into the Ekklesia whose hearts do not really have real love of the truth and are not committed to doing the will of the Father in all things. 
That is part of the problem in the Ekklesia, for we have looked to numbers as proof of God's favor and blessing us in all of these groups for many years. 
Let us all work at restoring God's truth as revealed from the whole Word of God rather than to go along with all the traditions of men that have been handed down to us including making gods of our leaders; those living and those long dead.
Jude 1:3 Beloved, when I gave all diligence to write unto you of the common salvation, it was needful for me to write unto you, and exhort you that ye should earnestly contend for the faith which was once delivered unto the saints.
Rewards For Standing Tall
The men of God of old were almost always misunderstood and rejected  by the people of their day, and the same fate awaits any who would be men and women of God today. A true measure of a man's worth is not on how much approval he receives from others, or how many friends that he has, or who he associates with (or what organization he belongs to). If we choose to follow Christ, we will have many enemies within and outside the Ekklesia.
Those who have been called and have come to the knowledge of what this life is all about and want to live God's way will be unpopular. It is often that the few will have to stand alone in this world; they will be maligned and persecuted by strangers and loved ones alike and even sometimes by those who say that they are in the Faith. 
But we can take courage from the Words of Jesus who suffered these things more than anyone else.
John 14:1 Let not your heart be troubled: ye believe in God, believe also in me. 14:2 In my Father's house are many mansions: if it were not so, I would have told you. I go to prepare a place for you. 14:3 And if I go and prepare a place for you, I will come again, and receive you unto myself; that where I am, there ye may be also.
John 16:33 These things I have spoken unto you, that in me ye might have peace. In the world ye shall have tribulation: but be of good cheer; I have overcome the world.
Mark 10:29 And Jesus answered and said, Verily I say unto you, There is no man that hath left house, or brethren, or sisters, or father, or mother, or wife, or children, or lands, for my sake, and the gospel's, 10:30 But he shall receive an hundredfold now in this time, houses, and brethren, and sisters, and mothers, and children, and lands, with persecutions; and in the world to come eternal life.
God is looking today not merely for those who will follow Him (yes, that too is very important) but He is also looking for men and women who are not afraid to lead, who are willing to speak and teach His Word faithfully as did the men of God of the Bible and also support those who are publicly doing so; men of whom it can be said like it was said of Elisha,  "….. the word of the Lord is with him." (2nd Kings 3:12).
But there is no short-cut to becoming men and women of God, they are not made overnight. God does not produce strong, godly leaders instantaneously. He does His part by calling them, and if they respond to His calling, He gives them His Holy Spirit and then they have to work at their salvation and to grow in grace and knowledge. 
It requires spending many hours alone with God on our knees, and overcoming our own human nature over the whole course of our lifetime. Leaders are not produced by attending seminary schools or universities, but rather by seeking God with all of their hearts, studying His Word, seeking to live as He lives, using their time to overcome all their sins and their carnal nature.
Leaders (those who aspire to be co-laborers with Christ) are ones that pick up their crosses in life and are willing to carry them, whatever it takes to be everything that God wants them to be and to remain in His will until death.
Leaders must attain to holiness by striving to live a holy life and to make their time with God top priority; and then they can say as Elijah and Elisha could, "God, before whom I stand".
Here are some of the things God is looking for in the men and women of the Ekklesia today. This is a partial list of the qualities that God is looking for in those He has called to be leaders and co-workers.  
The requirements of a man or woman of God who is training to be a king and priest in the Millennium are:
* Sets God as Sovereign in his life; he or she looks to God as his or her Lord and Master and does not go after idols, including men who have set themselves up as authorities over the flock. God alone is their authority and they seek to live by every Word that comes out of His mouth.
* Is to have godly character which comes through deep open minded honest study, and the practical application of what is learned.
* He or she knows his subject, they know what is right by God and do not deviate from it.
* Is a LIGHT of godly example to others.
* Is steadfast and not willing to be led astray or turn aside from his LORD by anyone even his or her own friends and family.
* Full of absolute FAITH in God and His Word.
* Loves TRUTH and is committed to seek truth and correct all error; including within himself.
* Hates sin and rebellion against God's Word and valiantly rebukes and fights and rejects sin.  He does not tolerate or compromise with any sin.
* Is patient, kind and hard working.
* Is full of love for God and man.
* Is quick to forgive the sincerely repentant.
* Is a good listener and communicator.
* Is attentive to personal prayer and his own relationship with God.
And we can probably think of many more qualifications and godly characteristics! This would be a good Bible Study to research out of the many attributes that the Bible records of the men and women who did exploits for God in the Old and New Testaments and set our hearts to emulate them.
Seek God's Power More Than Man's Power
Have our hearts and minds come to the point of yearning to be holy men and women of God at any cost? Only then can God hear our prayers and use us to do exploits for Him and to be a witness for Him. As the apostle James points out, only the fervent prayer that comes from a godly and holy man (or woman) avails much before God.
James 5:16 Confess your faults one to another, and pray one for another, that ye may be healed. The effectual fervent prayer of a righteous man availeth much.
God has given this last generation time to use all the technological advances and to try to do things in man's power by the power of man-made inventions. And, yes, those things have been a great help in expediting the work of preaching and teaching the Gospel. I am not negating that, it is just that with all these tools at our disposal, look at the condition of the Ekklesia today!
Godly leaders who are humble are not being made; we are a group of weak followers of men and we are scattered all over the face of the earth with no real sense of cohesion at being one with God first and then one with others who also put God first. 
We are not really making any kind of impact upon the world, we are hidden and unknown for the most part, and our witness of God is weak and almost non-existent.
So what does God need to do the work of God in these very end days? It will get done only through His power and through His human instruments; by those who have sanctified themselves and have come out of this present evil world and have made themselves HOLY by constantly living in God's presence; those who have rejected the sin and pleasures of this world and instead desire to do all of God's commandments.  
Paul told the brethren in Corinth that they were all laborers together with God and that they were God's husbandry (the Greek word for "husbandry" means: a cultivated field) and that they were God's building which is His Temple. 
Paul called many of his partners and colleagues such names as fellow-laborers, fellow-servants, fellow-soldiers, fellow-workers, and fellow-prisoners. Paul wrote this for the modern day brethren who would be reading this epistle as well.
And in 2nd Corinthians Paul again says that we are workers together with God but adds "that ye receive not the grace of God in vain."
2nd Corinthians 6:1 We then, as workers together with him, beseech you also that ye receive not the grace of God in vain.
The Greek word for "grace" in this verse is charis (Strong's #5485) and means: favor: From chairo; graciousness (as gratifying), of manner or act (abstract or concrete; literal, figurative or spiritual; especially the divine influence upon the heart, and its reflection in the life; including gratitude) — acceptable, benefit, favour, gift, grace(- ious), joy, liberality, pleasure, thank(-s, -worthy). (Strong's Exhaustive Concordance)
What is the grace of God? It is God's gift of mercy, what God grants to us which comes through sincere repentance and rejection of error and false doctrine to embrace the whole truth of God
What Paul is saying is that the called-out, those who have received God's grace through repentance, applying Christ's sacrifice to their past sins, and who now want to live for God; have become "laborers together with God."
Do we fully grasp what that means? It is truly a great privilege and honor to be regarded as a co-laborer with God; or as God calls us in so many other places, His servants. We are only small, weak humans, and yet God calls us to be STEWARDS of the grace that He has granted to us: meaning that God calls us and if we respond to His calling, believe the Gospel and repent, and then by applying the sacrifice of Christ's death on the cross, we are forgiven of all of our past sins; He then develops within us His divine nature through the power of the Holy Spirit and He gives us the charge to go to work for Him. 
If we are found still laboring with God, doing the Work of God until our death or until the return of Jesus to this earth, we will NOT have received this precious grace of God in vain.
Luke 12:42 And the Lord said, Who then is that faithful and wise steward, whom his lord shall make ruler over his household, to give them their portion of meat in due season? 12:43 Blessed is that servant, whom his lord when he cometh shall find so doing. 12:44 Of a truth I say unto you, that he will make him ruler over all that he hath.
If we give up and stop working for the Lord at any point in our calling (and then refuse to repent) then all that we have been given (God's mercy, grace, and truth) will be in vain and we will inherit the same portion as the unbelievers.
Luke 12:45 But and if that servant say in his heart, My lord delayeth his coming; and shall begin to beat the menservants and maidens, and to eat and drink, and to be drunken; 12:46 The lord of that servant will come in a day when he looketh not for him, and at an hour when he is not aware, and will cut him in sunder, and will appoint him his portion with the unbelievers.
As members of God's Ekklesia we want to fulfill our calling and not to be a disappointment to God who entrusted us to be His co-laborers and to be bearers of His truth at this time in the history of man.
Paul was very aware of this awesome responsibility and he told the brethren (which includes us) that we are to not to faint; we are never to get lax or to swerve from the truth as shown to us in God's Holy Scripture. 
God has given us His mercy and grace for accomplishing this awesome commission and He charges His servants that they must be diligent to teach God's Word and handle it in all truth and honesty, knowing that it was for this cause that they have been given grace.
2nd Corinthians 4:1 Therefore seeing we have this ministry, as we have received mercy, we faint not; 4:2 But have renounced the hidden things of dishonesty, not walking in craftiness, nor handling the word of God deceitfully; but by manifestation of the truth commending ourselves to every man's conscience in the sight of God.
We are not to twist, add to, or subtract from Scripture as the unlearned and unstable do; or as the deceitful workers do.
2nd Peter 3:16 As also in all his epistles, speaking in them of these things; in which are some things hard to be understood, which they that are unlearned and unstable wrest, as they do also the other scriptures, unto their own destruction.
2nd Corinthians 11:13 For such are false apostles, deceitful workers, transforming themselves into the apostles of Christ. 11:14 And no marvel; for Satan himself is transformed into an angel of light. 11:15 Therefore it is no great thing if his ministers also be transformed as the ministers of righteousness; whose end shall be according to their works.
God has placed the stewardship of the great commission on those who make up the Ekklesia and it behooves us to be counted as faithful servants when Christ returns. What a responsibility! but it is also very sobering for we know we cannot do it on our own.
God can work great wonders with faithful men and women even if all the technological gadgets someday are all gone. He is seeking for a people who will use the power of the Holy Spirit to put to flight the forces of the enemy undaunted by the many obstacles that confront us; men and women who will never stray from God's truth and who are willing to stand for God, doing the work that He has called us to do.
Someday, the heathen (all the unbelieving peoples and nations) will know that our Lord is indeed the true God, but we as the people of God (the Spiritual Israel of God) must do our part to be a zealous, godly people for Him in deed and not in name only. By being a zealous people in our day, we are being trained to be zealous, compassionate leaders in the Millennium when God will empower us to do mighty works.
My prayer, and I ask you to pray with me, is that we might hunger and thirst for the righteousness of God and the power of the Holy Spirit and the Holiness of God in our lives even more; and that more in God's Ekklesia will step up to the plate to be courageous leaders in the face of opposition and being maligned on the part of others and to boldly speak the truth in love when we are confronted with the false traditions of men.
What we do with this precious calling is so very important now, even though we may think that we are unimportant and that the job that God has given us is not really important and that what we do does not really matter that much.
As children of our loving Heavenly Father, let us be lights for Him no matter where we have been placed in the Body. These are the words of Paul to all those called to be sons and daughters of the Father:
Ephesians 4:4 I therefore, the prisoner of the Lord, beseech you that ye walk worthy of the vocation [as sons and daughters training to be priests and kings] wherewith ye are called,
Philippians 2:15 That ye may be blameless and harmless, the sons of God, without rebuke, in the midst of a crooked and perverse nation, among whom ye shine as lights in the world;
Everything we do does matter and we are being watched and scrutinized by those who will later come to have their eyes opened to the truth and they will remember the kind of example we set forth for them when we were the called out ones and they were still walking in darkness. Everything matters, even the little things. And God Himself is watching and evaluating just how much we really want His kingdom to come and to what degree we are willing to work for it.
Romans 14:7 For none of us liveth to himself, and no man dieth to himself. 14:8 For whether we live, we live unto the Lord; and whether we die, we die unto the Lord: whether we live therefore, or die, we are the Lord's. 14:9 For to this end Christ both died, and rose, and revived, that he might be Lord both of the dead and living.
What we do, and what we say, how we treat others; everything matters!
This is the time (while we still have time) to grow to glorify God, fulfill His will and work even harder at getting ourselves and the bride prepared and ready for Jesus' soon return.  
May He find in our midst many who are willing to pay the price involved in becoming holy, humble service-minded men and women of God who will become the courageous leaders that He is looking for to fill up His Ekklesia now and more importantly to serve as holy, compassionate, and righteous kings and priests in the Millennium…..just as Jesus is our holy, compassionate, and righteous High Priest.
But when he saw the multitudes, he was moved with compassion on them, because they fainted, and were scattered abroad, as sheep having no shepherd.  Then saith he unto his disciples, The harvest truly is plenteous, but the labourers are few; Pray ye therefore the Lord of the harvest, that he will send forth labourers into his harvest. (Matthew 9:36-38)
Have a wonderful Sabbath and Day of Pentecost everyone!
Constance
********************************
Dear Brethren, 
We are in training to become like Jesus Christ, to live as he lived!  
That is how the bride is to prepare herself for her coming responsibilities; by internalizing the very nature of her espoused Husband, so that when anyone is Chosen to be a part of the spiritual bride; they will be a perfect match for Christ, and perfectly suited and trained to be the priests and kings of the Eternal forever! 
The Bride will then be fit and fully spiritually qualified as kings and priests after the High Priesthood of Jesus Christ; to be laborers to help our High Priest Jesus Christ to bring the harvest of lives into the family of God!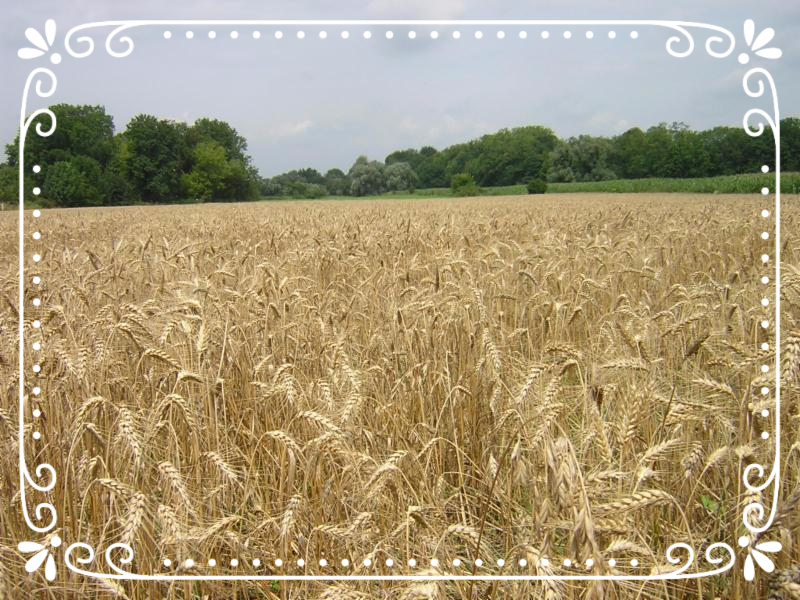 Brethren, all around us the fields of the earth are ripe and ready for the harvest.  Vast numbers of people long for true godliness and try to find it their own way having been deceived.  
Once that deception is lifted they will turn to Christ and God the Father speedily.  Indeed once the resistant of today are humbled they will seek out the Eternal with all their hearts! 
Then they shall see their teachers and will seek out the Eternal with all their hearts!  
Whether we are chosen or not to be there to help – bring in the harvest, depends on our own zeal to learn and to live by every Word of God!  
May God richly bless all his zealous faithful! 
James 
(TheShiningLight post ~ The New Covenant Priesthood ~ June 10, 2016)
*******************************
~ Feature Scriptures ~
John 4:34 -36
Jesus saith unto them, 
My meat is to do the will of him 
that sent me, and to finish his work.
Say not ye, There are yet four months, 
and then cometh harvest? behold, 
I say unto you, Lift up your eyes, 
and look on the fields; 
for they are white already to harvest.
And he that reapeth receiveth wages, 
and gathereth fruit unto life eternal: 
that both he that soweth 
and he that reapeth may rejoice together.
Matthew 9:36-38
But when he saw the multitudes, 
he was moved with compassion on them, 
because they fainted, and were scattered abroad, 
as sheep having no shepherd.  
Then saith he unto his disciples, 
The harvest truly is plenteous, 
but the labourers are few; 
Pray ye therefore the Lord of the harvest, 
that he will send forth labourers into his harvest. 
Photo Credits: (Public Domain – Fair Use) Images used here are solely for educational, commentary and illustrative purposes only..